August 24th, 7pm – Denver, CO
Rocky Mountain Pro is at Summer Scream at Lakeside Amusement Park! Open bar, unlimited rides, immersive experiences, and more!
August 31st, 7pm – Englewood, CO
Rocky Mountain Pro brings back Super Charged every other month, LIVE from the Wimmer Arena and streaming on YouTube Pay-Per-View with an RMP PPV Tier Membership!
See all the champions including Curtis Cole, Damon Ace, Adrian Myscira, Choppa City (Bruce Wayans & Atiba), and Sergei!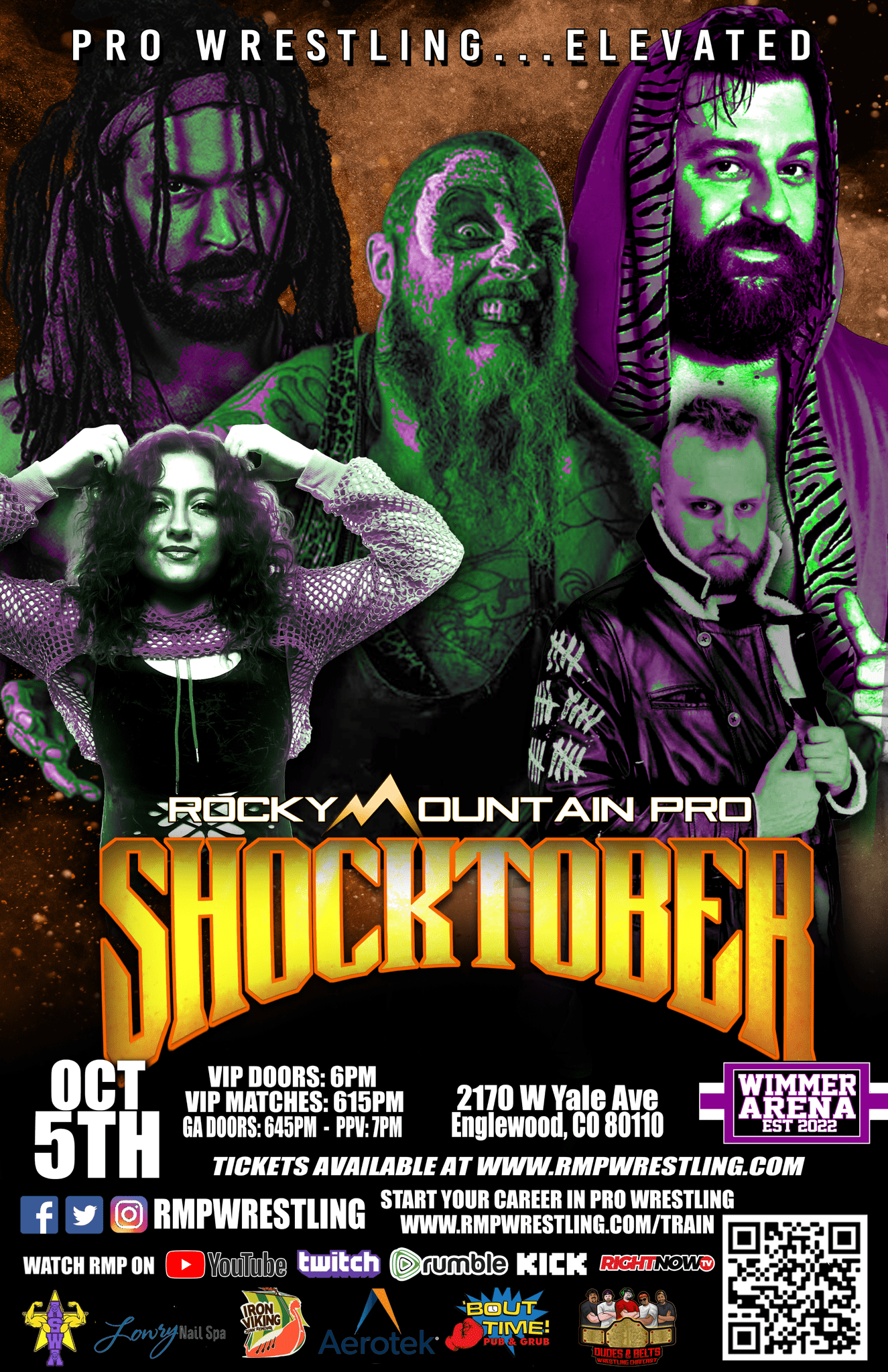 October, 5th, 7:00pm – Englewood, CO
Rocky Mountain Pro once again brings you our annual fall ppv! Stay tuned as we announce what will take place at shocktober!
October 21st 6pm – Longmont, CO
Rocky Mountain Pro returns to Summit Tacos in Longmont Colorad0 bringing you hard hitting action while you enjoy the best tacos from Summit Tacos! Bring your family and friends on one or all three dates of live action!
LIVE at Romeros K9 & Tap House
October 7th, 8pm – Lafayette, CO
Rocky Mountain Pro is at Romero's K9 & Tap House!
Enjoy a night of LIVE action with all the Rocky Mountain Pro talent!
Mercury Yaden: Pro Wrestling Seminar
November, 25th, 12 pm – Huntington, IN
Mercury Yaden Seminar takes place at Heritage Hall in Huntington Indiana. Build skills that will help you achieve the next level in your pro wrestling journey. 
Reserve your spot today! Send payment to:

Venmo: @YadenRMP
Zelle: mercurynrw@gmail.com
Join us for our monthly night of action at the rowdy bierstadt lagerhaus! enjoy beer as big as your head as Rocky Mountain Pro talent tears the house down!
snowpack - taproom & pizzaria
September 10th 2023 – Conifer, CO
Join is every month during the summer at Snowpack Taproom & Pizzaria in Conifer, CO for a FREE Event! Action and great pizza for the whole family!
Rocky Mountain Pro IGNITION
Every Thursday, 6:30pm – Englewood, CO
Rocky Mountain Pro has a new home in Englewood, Colorado and our new home is called The Summit.
Come see the next generation of Rocky Mountain Pro Stars every week on IGNITION!
Can't be there? Watch live on Youtube
2170 W Yale Ave, Englewood, CO 80110
Rocky Mountain Pro and ASWA Rocky Mountain have a new home where we train and produce our LIVE TV TAPINGS for IGNITION/CHARGED and we call it
THE WIMMER ARENA!
2875 Blake St, Denver, CO 80205
Rocky Mountain Pro and lager fans can experience the best of both worlds when we invade the brewery every month at the Bierstadt Lagerhaus!
snowpack taproom & pizzaria
11863 Springs Rd #210, Conifer, CO 80433
Rocky Mountain Pro in Conife, CO Enjoy action with beer, pizza at the rocky mountains!
Romero's K9 Club &Tap house
985 S Public Rd, Lafayette, CO 80026
Rocky Mountain Pro has a soft spot for the doggos but that doesn't mean we wont mark our territory (with fists) when we invade Romero's K9 Club & Tap House! 
7007 E 88th Ave, Henderson, CO 80640
Rocky Mountain Pro is at the Mile High Flea Market! Great food! Many shops! Pro Wrestling Action!
100 Chopper Cir, Denver, CO 80204
Rocky Mountain Pro returns to the Ball Arena for
THE RUMBLE AT THE LOUD HOUSE!